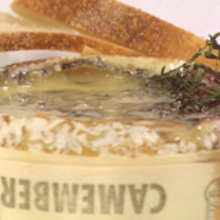 Baked Camembert
---
Ingredients:
3 cloves garlic
Normandy camembert (in box)
2 tblspns red wine
2-3 sprigs fresh thyme, leaves picked
Serves: 4
Preparation time: 30 minutes
Method:

Blanch garlic in boiling water for 1 minute. Cut into quarters.
Remove outer wrap of camembert and replace cheese in wooden box.
Pierce top of cheese placing a 1/4 clove of blanched garlic in each hole.
Place cheese in oven proof dish , sprinkle with wine and herbs.
Bake at 180C for 20 minutes. Serve warm with crusty bread.