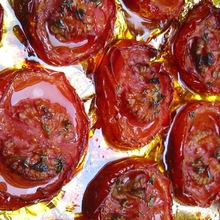 Slow Roasted Tomatoes
---
Ingredients:
8 roma tomatoes, halved lengthwise
extra virgin olive oil
sea salt
freshly ground black pepper
freshly torn basil leaves
The slow cooking of the tomatoes concentrates the flavours of the basil and the oil.
Method:

Preheat oven to 120C.
Fit a metal rack over a baking tray. Arrange tomato halves on rack, cut side up. Brush with a generous quantity of oil, then sprinkle with salt, a little pepper and basil.
Bake 4-5 hours until tomatoes have shrunk considerably and edges are shrivelled.
Allow to cool on rack. Store for up to 1 week, refrigerated, in a flat container in single layers separated by sheets of baking paper.