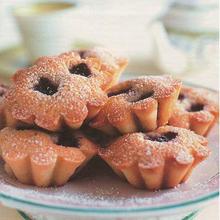 Raspberry Friands
---
Ingredients:
180g butter
1/3 cup plain flour
3/4 cup icing sugar
100g ground almonds
grated lemon rind
5 egg whites
frozen raspberries
Serves: 8
Method:

Melt butter in a small saucepan over low heat and cook for 1 minute, or until golden. Be careful not to burn the butter.
Sift flour and icing sugar into a mixing bowl. Stir in ground almonds and the grated lemon rind.
Lightly beat egg whites with a fork and then stir into the dry ingredients. Add the warm butter and mix with a wooden spoon until smooth.
Spoon mixture into 8 lightly greased baby brioche of special fraind tins, until three-quarters full. Poke a few raspberries into the top of each.
Bake in a pre-heated 200C oven for 5 minutes, then reudce heat to 180C and cook for a further 10-15 minutes or until golden and risen. Allow to cool in the tins for 5 minutes before turning them out on to a wire rack to cool completely.
Dust with icing sugar before serving.