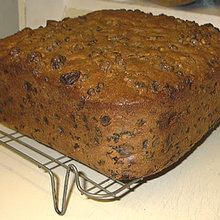 Fruit Cake
---
Ingredients:
110g raisins
225g chopped dates
175g sultanas
110g currants
275g butter
275ml water
1 tin condensed milk
3/4 cup plain flour
3/4 cup wholmeal flour
3/4 tspn carb soda
pinch of salt
1 tblspn marmalade
Method:

Combine fruit, butter, water and condensed milk in a saucepan. Bring to the boil, stirring frequently. Simmer for exactly 3 minutes. Transfer to a large mixing bowl, and let it cool for about 30 minutes.
Add sifted flour(s), carb soda and salt. Mix into cooled fruit mixture, then add marmalade.
Spoon mixture into greased and lined 8" cake tin. Bake for 2 1/2 - 3 hours at 170C. Cover top with foil if cooking too quickly.
Then eat!