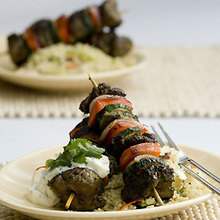 Couscous Salad
---
Ingredients:
500g packet couscous
1 small bunch parsley, chopped
zest of 2 lemons
1 large red chilli, sliced
2 spring onions, sliced
10 cherry tomatoes, cut in half
salt & freshly ground black pepper
squeeze fresh lemon juice
Serves: 4
Method:

Prepare couscous according to the cooking instructions on the packet.
Place cooked couscous in a bowl then add the remaining salad ingredients.
Season with salt and pepper, add a squeeze of lemon juice and set aside.
Serve with lamb skewers and mint yoghurt.