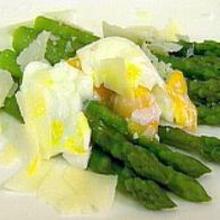 Asparagus With Soft Boiled Egg & Parmesan
---
Ingredients:
2 bunches thick asparagus
4 fresh free range eggs
100g shaved parmesan
2 tblspns butter
sea salt & freshly ground pepper
olive oil
pinch of sugar
Serves: 4
Method:

Trim the woody stems off the asparagus. You can cut these with a knife, but the best way is to snap the asparagus spears individually between your fingers and then trim up the ends. The asparagus will snap where the spear becomes tough and woody, leaving only the tip and the tender spear.
Blanche the asparagus in boiling sugared and salted water for 2-3 minutes until just tender. Remove from the water and brush with melted butter.
Gently place the room temperature eggs into a pot of gently simmering water for exactly 60 seconds (very fresh eggs may need 2 minutes). Remove the pan from the heat and let stand for 4 minutes. Remove from the pot and allow to cool slightly, then gently peel the eggs.
Divide the asparagus between 4 plates, spooning a litlle of the butter over each plate. Add the soft boiled egg and top with fresh parmesan and freshly ground black pepper and sea salt.