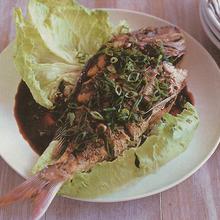 Deep Fried Whole Fish With Spring Onion, Ginger & Vinegar Dressing
---
Ingredients:
2 tspns Sichuan peppercorns
1 1/2 tblspns sea salt
750g whole fish, scaled, cleaned & gutted
vegetable oil for deep frying
2 lettuce leaves
2 tblspns finely sliced spring onions
SPRING ONION, GINGER & VINEGAR DRESSING
2 1/2 tblspns light soy sauce
2 tblspns finely sliced coriander roots & stems
2 tblspns finely diced ginger
2 tblspns finely sliced sping onions
2 tblspns kecap manis
2 tblspns malt vinegar
1/4 tspn chilli oil
dash of sesame oil
Serves: 4-6
Method:

Dry roast peppercorns and salt in a heavy based pan. When the peppercorns begin to pop and become aromatic, remove from heat. Allow to cool then grind in a mortar and pestle.
Combine all dressing ingredients in a bowl and set aside.
Pat fish dry with kitchen paper and place on a chopping board. With a sharp knife, make four diagonal slits into one side of the fish, then score in the opposite direction to make a diamond pattern. Turn fish and repeat on the other side.
Heat vegetable oil in a hot wok until surface seems to shimmer slightly. Carefully lower fish into the wok and fry for 3 minutes, then carefully turn fish and fry for a further 3 minutes or until fish is lightly browned and just cooked through when tested. The flesh should be white through to the bone; if it is still translucent, cook for another minute or so.
Arrange lettuce leaves on a large serving plate. Using a spatula, carefully remove fish from wok and drain on kitchen paper. Transfer to the serving plate, pour over reserved dressing and garnish with spring onions.
Sprinkle with some of the Sichuan pepper and salt and serve immediately.