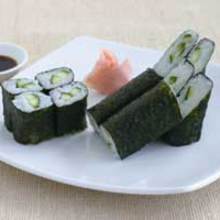 Nori Rolls
---
Ingredients:
2 cups Sushi rice
2 cups water
4 tblspns rice wine vinegar
2 tblspns sugar
packet of roasted seaweed sheets
lebanese cucumbers, thinly sliced lengthways
wasabi paste (optional)
cooked chicken breast, sliced into long strips
1/4 cup Japanese soy sauce
1-2 tblspns pickled ginger (optional)
This is a basic Nori roll recipe - the fillings shown are suggestions only. Other suggestions for fillings are sashimi tuna, salmon, cooked prawns, crab sticks, avacado, snow pea sprouts and asparagus.
Everything you need to make Nori rolls can be found in any Coles or Woolies, including the sushi rice, seaweed sheets, rice wine vinegar and bamboo mat.
Serves: 8-10 rolls
Method:

Put rice in a fine strainer and rinse 3-4 times under cold water until water runs clear. Drain. Put rice and water in a pot with a tight fitting lid. Bring to the boil, stirring occasionally. Lower heat, cover, and simmer for 12 minutes. Remove from heat and stand for 10 minutes.
Put rice wine vinegar, sugar and salt in a small saucepan. Place on low heat and stir until sugar has dissolved, then remove from heat.
Sprinkle vinegar over rice, slicing through with a wooden spoon to break up any lumps and distribute vinegar evenly. Cool rice quickly with a fan, turning occasionally, about 5 minutes (you can spread it out on a bench is you wish). Cover with a damp cloth to stop rice drying out.
Make vinegar water by combining 1 cup of water with 1 teaspoon of rice wine vinegar. This is used during the rolling to stop the rice sticking to your fingers.
Place bamboo mat on a board or other flat surface. Place a sheet of nori on the mat, rough side up, one edge of the nori lining up with the front edge of the mat.
Dip your right fingers into the vinegar water. With damp fingers, take sushi rice and spread evenly over 2/3 of the nori, leaving a space at the back edge. With your right index finger, draw a line of wasabi along the rice (optional).
Place strips of cucumber and chicken side by side along the wasabi line. For first attempts at making sushi, keep fillings to a minimum for ease of rolling.
Using both hands, lift the front edge of the mat and roll up to the end of the rice. While still wrapped, gently shape the roll, pushing rice in at both ends with fingertips.
Keep lifting up the front edge of the bamboo mat as you roll the sushi on to the remaining uncovered portion of the nori, giving a light press on the edge before removing the mat completely. The edge of the uncovered nori may be moistened to help the roll stick together.
With a wet knife, slice the roll in to 6 pieces.
Serve with pickled ginger garnish and a dipping dish of soy sauce.