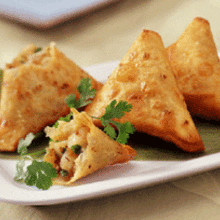 Samosas
---
Ingredients:
DOUGH
2 1/2 cups plain flour
pinch of salt
4 tblspns ghee, melted
3/4 cup warm water
vegetable oil for deep frying
FILLING
500g potatoes
4 tblspns peanut oil
300g fresh peas
1 onion, chopped
2 cloves garlic, chopped
1 tspn ginger, chopped
1 tblspn lemon juice
1 tblspn chat masala
1 large green chilli, chopped
1 tblspn cumin seed whole
1 tblspn coriander gound
1 tblspn amchoor (mango powder)
1 bunch fresh coriander
1/2 tspn sea salt
Serves: 12
Method:

DOUGH
Sift flour, add salt, rub in melted ghee, add water slowly and knead dough till pliable in mixer for 3 to 4 minutes. Rest for 1 hour in fridge, then divide in to 12 balls. Roll out and cut into long triangle shapes.
FILLING
Boil potatoes till soft, then peel and dice or mash, leaving some chunks.
Shell peas.
In the peanut oil, fry onions, salt, garlic, ginger, cumin, coriander and chilli, then add peas. Add potatoes and cook until peas are soft. Add chat masala, amchoor, lemon juice and chopped coriander leaves.
Place about 1 tablespoon of the mixture in the centre of the dough, wet the sides with water and fold to make little triangles.
Heat the oil in a saucepan or wok to about 180C and deep fry samosas for about 4 minutes.
Serve with minted yoghurt.