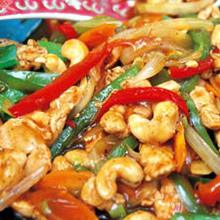 Chicken & Cashew Nut Stir Fry
---
Ingredients:
1/4 cup raw cashews
500g skinless chicken breast fillet, sliced
1 tspn crushed garlic
1 onion, roughly chopped
1/2 small red chilli, sliced
1/2 green capsicum, sliced
1/2 red capsicum, sliced
16 snow peas, cut in half
1/2 cup carrot, thinly sliced
1/2 cup shallots
1 cup chicken stock
2 tspns fish sauce
2 tspns oyster sauce
2 tspns soy sauce
pinch of sugar
pinch of pepper
1 tblspn cornflour
1/2 cup water
Serves: 4
Method:

Fry cashews in the wok with a little sesame oil until browned. Remove and reserve.
Cook chicken and garlic in the wok with a little sesame oil over high heat. Remove and reserve.
Add a little more sesame oil, then add onion, chilli, capsicum, snow peas and carrots. Cook over high heat for 3-4 minutes, then add stock, shallots, sauces, sugar and pepper, and mix together.
Blend cornflour with water and pour into wok. Stir well. Add chicken to pan and cook for a few more minutes.
Stir through cashews and serve with rice or noodles.