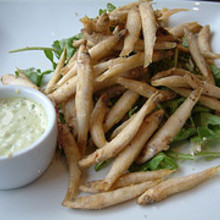 Chilli Salt Whitebait
---
Ingredients:
5 tblspns plain flour
1 tblspn chilli powder
1 tspn ground black pepper
1 tblspn onion powder
1 tblspn garlic powder
1 tblspn ground sea salt
whitebait
vegetable oil for frying
coriander
Method:

Mix flour and spices and set aside. This recipe makes more seasoned flour than needed but it keeps indefinitely in an airtight container.
Heat 3-4 cm of vegetable oil in a saucepan or wok over medium heat.
Toss whitebait in the flour mixture until lightly coated, then fry in small batches until the flour crust and fish are crisp - about 2-3 minutes.
Drain and then garnish with coriander and serve with chilli sauce or aoli.