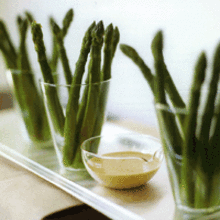 Asparagus With Toasted Sesame Aioli
---
Ingredients:
1/4 cup mayonnaise
1 tblspn sesame oil
2 tspns soy sauce
2 tspns fresh lemon juice
2 tspns sesame seeds
1/2 tspn minced fresh ginger
1 clove garlic, minced
Bold, toasty sesame oil adds depth to the classic French garlic-lemon mayonnaise. You can use bought mayonnaise as shown below, or choose to make it yourself from scratch (see separate Aioli recipe).
Arrange the crisp asparagus spears, tips up, in a tall, clear glass, with the sesame sauce nearby, served in a radicchio cup for colour.
Method:

Steam the asparagus in a covered steamer over boiling water until crisp-tender, about 4 minutes. Drain well. Rinse with cold water and drain again.
Stir together all of the aioli ingredients in a bowl until smooth.
Place sesame seeds in a heavy based frypan over medium-high heat and toss constantly until they are lightly browned, about 3 to 5 minutes.
To serve, arrange the asparagus spears in a tall, clear glass container. Spoon the sauce into a radicchio leaf or small dish, garnish with sesame seeds, and place nearby for dipping.
The asparagus can be cooked up to 1 day in advance. The sauce will keep for up to 1 week in a covered container in the refrigerator. Bring both to room temperature for serving.