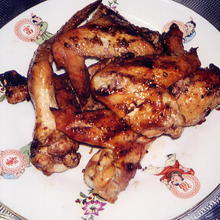 Chinese Chicken Wings
---
Ingredients:
1.5 Kg chicken wings
1/4 cup soy sauce
1 tblspn oil
1 tblspn honey
6 tspns dry sherry
2 tspns sugar
2 tspns grated fresh ginger
1 clove crushed garlic
2 tblspns sesame seeds
Method:

Place chicken wings in a large, shallow dish.
Mix all marinade ingredients together and pour over the chicken.
Cover and marinate in the fridge overnight.
Place chicken wings and marinade in a baking dish and bake in a moderately hot oven (190?C) (or a Weber) for 40 - 45 minutes or until tender.
Baste occasionally while cooking.