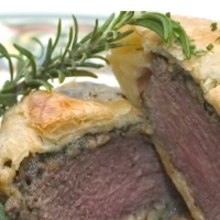 Beef Wellington
---
Ingredients:
400g flat cupped mushrooms, chopped
1 tblspn olive oil
750g beef fillet
1-2 tblspns English mustard
8-10 slices prosciutto
sheets of puff pastry
2 egg yolks, beaten
Serves: 4
Method:

Put mushrooms in the bowl of a food processor and season, then pulse to a paste. Heat a pan over high heat, add mushrooms and cook for 10 minutes, tossing often, until the moisture has cooked out. Remove and cool on a plate.
Heat oil in a frying pan over a high heat, season beef and sear for 30 seconds on each side or until just coloured. Remove from pan and cool.
Brush mustard over beef and set aside.
Lay a sheet of cling film on a work surface. Arrange prosciutto slices on top, making sure the slices overlap. Spread mushroom paste over prosciutto slices. Place beef in the middle, using the cling film to guide, then fold prosciutto and mushroom over and around beef to form a tight barrel shape. Twist ends of cling film to secure and chill for 15-20 minutes.
Preheat oven to 200C.
Remove cling film from beef and place in centre of pastry. Brush pastry with egg, wrap around beef and trim away excess. Place on tray and brush with egg, chill for 15 minutes.
Lightly score pastry at 1 cm intervals and brush with egg again. Bake for 20 minutes, then reduce oven to 180C and cook for 15-20 minutes, or until pastry is golden. Allow to rest for 10 minutes before slicing. The beef should be pink in the centre.