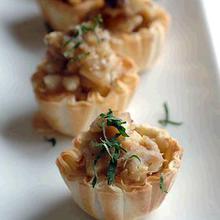 Pastry Cups With Chicken, Mushrooms & Cashews
---
Ingredients:
12 sheets filo pastry
melted butter
chopped parsley
1/2 small brown onion
150g mushrooms
40g butter
40g plain flour
250ml milk
150g cooked chicken
75g chopped cashews
salt & freshly ground black pepper
Serves: Makes about 32 cups
Method:

Preheat oven to 180C.
Layer four sheets of the filo on top of each other with a coating of melted butter between each piece. Using an 8cm diameter pastry cutter, cut out as many circles as you can. Grease a small muffin tin with the melted butter and push a circle of pastry into each hole. Bake until golden, allow to cool in tin, then remove and store in an airtight container.
Peel and finely dice the onion. Chop the mushrooms. Heat butter in a medium saucepan and cook onion and mushrooms for 5 minutes. Add the flour and cook the paste for another 2-3 minutes. Add the milk, stir to remove any lumps and cook until thick. Add chicken and cashews, season and spoon into the pastry cups.
Warm through in the oven and serve with a little chopped parsley on top.