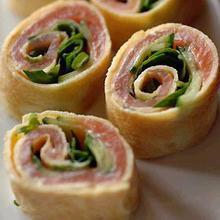 Smoked Salmon, Horseradish & Rocket Egg Rolls
---
Ingredients:
OMELET MIX
6 eggs
2 tspns caster sugar
1 tspn sesame oil
vegetable oil for cooking
FILLING
1 tblspn horseradish
3 tblspns sour cream
salt & freshly ground pepper
2 lebanese cucumbers
2 spring onions
rocket leaves
150g smoked salmon
Serves: Makes about 40 pieces
Method:

To make the omelet, lightly beat together the eggs, sugar and sesame oil until they are thoroughly combined. Pass through a fine sieve. Heat a non-stick frypan over medium heat and grease it lightly with a little vegeatble oil. Pour in a little of the egg mix until you have a thin covering, similar to making crepes.
Cook until the egg is set on the top side, but do not let the bottom get too dark. It should only colour lightly, taking about 1 minute to cook. Turn the omelet out of the pan: you only need to cook one side. Continue until all the mix has been used. You can stack the omelets on top of each other. This mix will make about 8 omelets. Set aside.
Mix together the horseradish with the sour cream and season.
Slice the cucumber into long, thin strips. Slice the onions into rings. To assemble, place an omelet on a work bench. Smear a thin layer of the horseradish cream on to the bottom half of the omelet. Layer a piece of smoked salmon on top of the horseradish cream, then some of the cucumber strips, onion rings and rocket leaves. Starting from the bottom, roll the omelet up into a long cylinder. Set aside. Continue until all the ingredients are used up.
When ready to serve, slice each cylinder into 5-6 rounds.