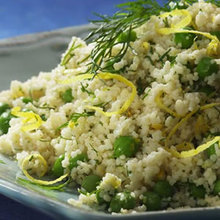 Minted Couscous With Peas & Mustard Seeds
---
Ingredients:
2 tspns oil
2 tspns black mustard seeds
40gm butter
560ml vegetable stock
1 1/2 cups couscous
1 cup cooked peas
4 green spring onions
1/4 cup chopped fresh mint
1/4 cup oil
1/4 cup cider vinegar
1 tspn sugar
ARefreshing Summer Salad!
Method:

Heat oil in a pan, add seeds, cook covered until seed start to pop.
Add butter and stock, bring to boil. Stir in Couscous, return to boil, remove pan from heat.
Cover pan and stand for 5 minutes or until liquid is absorbed. Spread onto tray and separate grains with a fork.
Cool to room temp. Add mint, peas and spring onion to Couscous.
Combine 1/4 cup of oil and cider vinegar with sugar to make dressing and dress salad just before serving.