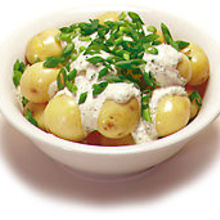 New Potato Salad with Basil Dressing
---
Ingredients:
500 g small new potatoes
2 tblspns pinenuts
1 cucumber, sliced


BASIL DRESSING
1 cup basil leaves
2 cloves garlic, crushed
2 tblspns pinenuts, toasted
2 tblspns grated parmesan cheese
1/2 cup mayonnaise
1/4 cup light sour cream
Method:

Boil or steam potatoes until tender.
Drain, place in salad bowl.
Place pinenuts (those for dressing as well) on oven tray, toast in moderate oven for 5 - 8 minutes, add the 2 tblspns pinenuts to potatoes with cucumber, pour dressing over, toss lightly.
Sprinkle with Basil.
DRESSING
Combine basil, garlic, toasted pinenuts and parmesan cheese in processor, process until smooth, add mayonnaise and sour cream, process until smooth.