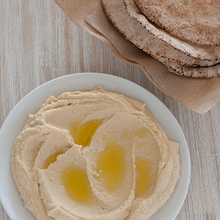 Hoummus
---
Ingredients:
1 can chickpeas
3 tblspns lemon juice
1-2 cloves garlic, finely chopped
3 tblspns tahini
1 tblspn extra virgin olive oil
1 tspn paprika
Method:

Drain chickpeas, reserving the canning water. Pop chickpeas, 3 tablespoons of the canning water, lemon juice, garlic and tahini in a food processor.
Whizz for a few minutes, stopping to scrape down the sides once or twice. Continue to whizz until everything is lovely and smooth.
Taste and season with salt, pepper and perhaps a little more lemon juice.
Place the mixture into a serving bowl and make a well in the centre, deep enough for the oil to be poured in. Sprinke paprika on top.