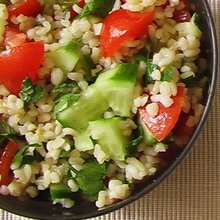 Tabbouleh
---
Ingredients:
1 bunch fresh parsley, finely shredded
handful of fresh mint leaves, finely shredded
juice of 1-2 lemons
2 tblspns fine burghul
3-4 medium tomatoes, diced
4 green shallots, finely chopped
salt & pepper
olive oil
lettuce leaves, to serve
Method:

After chopping, wash parsley and mint and drain well. Squeeze lemon over burghul and leave to soften.
Combine parsley, mint, tomato, shallot and softened burghul. Season with salt and pepper and mix in olive oil. The best way to mix is to use your hands.
To eat, spoon some of the tabbouleh onto a lettuce leaf, roll up and eat.
Note: Tabbouleh can be prepared 1-2 hours ahead, but add salt, pepper and oil just before serving.