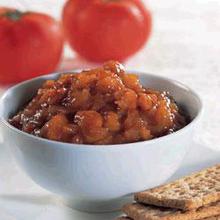 Indian Tomato Chutney
---
Ingredients:
2kg ripe tomatoes
1 clove
1 tspn cumin seeds
olive oil
1/2 tspn black mustard seeds
3 small green chillies, halved, deseeded
2 garlic cloves, grated
fresh ginger, grated
1/2 bunch coriander, chopped
5 curry leaves
1 red onion, thinly sliced
150g brown sugar
200ml cider vinegar
juice of 1 lime
This is great if you have extra tomatoes and want to keep some for a rainy day. To preserve it, sterilise your jars by rinsing in boiling water before you start.
Serves: 2 x 300g jars
Method:

Bring a large pan of water to the boil and throw in tomatoes. Count to 20, tip pan into a colander and refresh tomatoes under cold running water. When they are cool enough to handle, it should be easy to peel off skin.
Cut peeled tomatoes in half, squeeze out pips and discard. Chop flesh into chunks. Grind clove, cumin and 1 teaspoon of salt in a mortar and pestle.
Heat a stainless steel pan big enough to hold all the ingredients, and pour in a splash of oil. Add mustard seeds and when they go pop, add ground spices, chilli, garlic, ginger, coriander stalks and curry leaves. Stir briefly, then add onion and cook over low heat for 4 minutes until onion is soft and light brown.
Add tomatoes and cook for 10 minutes or until they break down to a mush. Add sugar and vinegar, bring to the boil, then simmer gently over medium-low heat until thickened. Season with salt, pepper and lime juice and stir in coriander leaves.
Eat straightaway or spoon it into sterilised jars, close tightly, turn upside down and cool. This will preserve the chutney and it'll then keep in a cool place for a month or 2 until you open it.