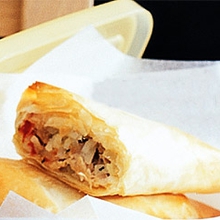 Tuna, Tomato & Rice Triangles
---
Ingredients:
1/2 cup basmati rice, rinsed
1 tblspn olive oil
1 small brown onion, finely chopped
1 garlic clove, crushed
185g tuna in oil, drained, flaked
1/4 cup semi-dried tomatoes, finely chopped
1/4 cup pouring cream
1 egg, lightly beaten
1 1/2 tblspns dill, chopped
18 sheets filo pastry
125g butter, melted
Serves: 18
Method:

Cook rice, following absorption method on pack. Set aside to cool.
Preheat oven to 200C. Heat oil in a non-stick frying pan over medium heat. Add onion and garlic. Cook, stirring, for 3 to 4 minutes or until soft. Remove to a bowl. Add rice, tuna, semi-dried tomato, cream, egg and dill. Season with salt and pepper.
Place 1 pastry sheet on workbench. Brush with butter. Top with another pastry sheet and brush with butter. Repeat to form 3 layers. Cut pastry lengthways into thirds.
Spoon 1 heaped tablespoon of tuna mixture onto short end of ech pastry strip. Fold pastry over filling to form a triangle. Continue to fold triangle over itself, down length of pastry strip. Brush with butter. Place on a greased baking tray. Repeat with remaining pastry, butter and filling.
Bake triangles for 15 to 20 minutes or until pastry is golden. Set aside to cool.
To freeze: Wrap each triangle in plastic wrap. Place triangles in an airtight container. Freeze for up to 3 months. To thaw, remove from freezer the night before and unwrap. Place on a plate lined with paper towel and refrigerate. Transfer to lunch box in the morning.