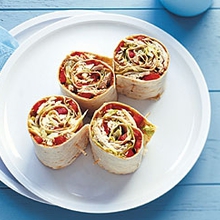 Chicken Satay Wrap
---
Ingredients:
3/4 cup peanut butter
1/3 cup sweet chilli sauce
1 tspn soy sauce
4 sheets lavash bread
1 red capsicum, cut into thin strips
3 cups cooked chicken
1/2 iceberg lettuce, shredded
Serves: 16
Method:

Place peanut butter, sweet chilli sauce and soy sauce in a bowl. Stir until well combined.
Lay 1 piece of lavash bread on a board, with short end nearest to you. Spread with peanut butter mixture. Top with one quarter of the capsicum, chicken and lettuce. Repeat with remaining lavash, peanut butter mixture, capsicum, lettuce and chicken.
Cut wraps into 4. Secure each small wrap with a toothpick. Serve.
Variation: To make chicken, avocado and celery wraps, replace peanut butter, sweet chilli and soy sauce with mashed avocado, and capsicum with diced celery.