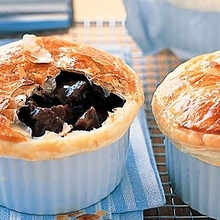 Steak & Mushroom Pie
---
Ingredients:
2 tblspns vegetable oil
1kg beef chuck steak, trimmed
1 brown onion, chopped
2 cloves garlic, crushed
1 tblspn plain flour
1 cup beef stock
400g can diced tomatoes
250g mushrooms, thickly sliced
puff pastry sheets
1 egg, lightly beaten
Serves: 6
Preparation time: 30 minutes prep, 155 minutes cooking
Method:

Heat half the oil in a large saucepan over medium-high heat. Add half the beef and cook, uncovered, turning occasionally, for 3-4 minutes or until well browned. Transfer to a plate and set aside. Repeat with remaining beef.
Heat the remaining oil in the pan over medium heat. Add onion and cook, uncovered, stirring occasionally, for 5 minutes or until soft and light brown. Add garlic and cook, stirring, for 1 minute or until aromatic. Sprinkle the flour over the onion mixture and cook, stirring, for a further 1 minute.
Gradually stir in the stock and use a wooden spoon to dislodge any bits cooked onto the base. Return beef to the pan with the tomatoes and stir to combine. Cover and bring to a simmer over medium-low heat. Reduce heat to very low and simmer, covered, stirring occasionally, for 1 hour. Stir in the mushrooms and simmer over low heat, uncovered, stirring occasionally for 45 minutes or until the beef is very tender and the sauce is thick.
Preheat oven to 200C. Spoon beef mixture into 6 ovenproof ramekins. Cut out 6 circles of the puff pastry to cover. Press firmly onto dishes and seal. Brush with beaten egg, place on a tray and bake for 25 minutes until golden.
Freeze uncooked pies, wrapped in plastic then foil. Defrost before cooking.