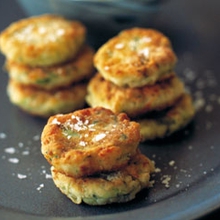 Zucchini & Haloumi Fritters
---
Ingredients:
300g (about 6-8) zucchini
1 onion, grated
250g haloumi cheese, grated
1/2 cup plain flour
2 tspn grated lemon rind
2 eggs
1 tblspn chopped fresh dill
olive oil
sea salt
Serves: 25
Method:

Coarsely grate the zucchinis, then squeeze out as much liquid as possible. Place in a bowl and add the onion, haloumi cheese, flour, lemon rind, eggs and dill. Season with salt and black pepper and stir to combine. Form the zucchini mix into about 25 bite-size patties. Refrigerate for 30 minutes to firm.
Heat some oil in a frying pan over medium heat and fry, in batches, for 1-2 minutes each side until golden. Drain on paper towel.
Serve the fritters warm with aioli and a little sea salt.