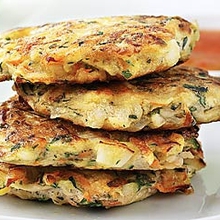 Vegetable Fritters
---
Ingredients:
2 potatoes
1 carrot
2 zucchinis (grated)
1 onion, chopped
1/2 cup self-raising flour
1/2 tspn salt
1/4 cup chopped continental parsley
3 eggs, separated
2 tblspsns olive oil
Hide heaps of veggies in these yummy fritters and watch the kids wolf them down!
Preparation time: 20 minutes
Method:

Peel potatoes and carrot, and grate into a bowl. Add zucchini, onion, flour, salt, parsley and egg yolks. Stir to combine.
Place egg whites into a bowl and beat until stiff peaks form. Fold through vegetable mixture.
Heat a large pan over medium heat. Add a little oil and about 1/3 cup of the mixture (less if you want smaller fritters) and cook for 5 minutes (cook 4 at a time). Turn and cook for another 5-8 minutes.
Repeat with remaining mixture.
Serve with green salad and sweet chilli sauce.