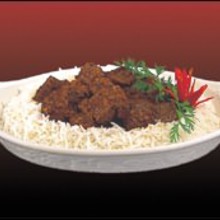 Vindaloo
---
Ingredients:
1kg beef, cubed
5 cloves garlic
3 tspns ginger, minced
2 tspns chilli, minced
2 tspns coriander, ground
1 tspn cumin
1 tspn cloves
1 tspn cardamom, ground
1 tspn cinnamon
1 tspn salt
10 peppercorns, ground
2 bay leaves
1 tin tomato puree
125 ml vinegar
Method:

Combine the vinegar with crushed garlic, ginger, chilli, coriander, cumin, cardomom, cinnamon, cloves, peppercorns and salt.
Add the beef and marinate overnight or for a few hours.
Heat oil in a saucepan and add the beef and marinade and cook over high heat for a few minutes.
Add the tomato puree and bay leaves and simmer for 2 hours or until beef is tender.