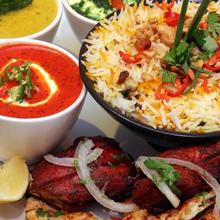 Spicy Yoghurt Chicken
---
Ingredients:
1 1/4 cups natural yoghurt
2 tblspns lemon juice
2 cloves garlic, crushed
2 tblspns grated fresh ginger
2 small green chillies, seeded & finely chopped
1 tblspn garam masala
2 tspns paprika
2 tspns turmeric
2 tblspns vegetable oil
6 skinless chicken breast fillets
Serves: 6-8
Preparation time: 40 minutes
Method:

Combine yoghurt, juice, garlic, ginger, chillies, spices and oil in a non-metallic dish. Diagonally slash fillets across the top in several places, and mix to coat. Cover dish and marinate for at least 1 hour, or overnight.
Preheat oven to 200C. Place a rack in a baking dish. Place well coated fillets on the rack. Bake for 25-30 minutes until cooked and golden.
Thickly slice fillets. Serve tandoori style with basmati rice, or with butter chicken sauce.