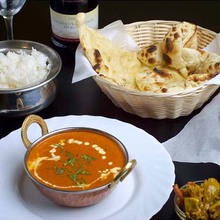 Butter Chicken Sauce
---
Ingredients:
1/3 cup tomato paste
1 tblspn grated fresh ginger
1 green chilli, seeded, finely chopped
2 tspns ground cumin
1 tspn garam masala
2 tblspns chopped coriander
1 tblspn lemon juice
300ml cream
50g butter, cut up
Use this sauce to turn Spicy Yoghurt Chicken into rich Butter Chicken.
Serves: 6-8
Preparation time: 15 minutes
Method:

Place tomato paste, ginger, chilli, spices, coriander and lemon juice in a large pouring jug. Gradually add cream and 2/3 cup water, whisking to combine. Season with salt and a pinch of sugar.
Melt butter in a large frying pan over moderate heat. Add cream mixture. Simmer 3-5 minutes, stirring, until sauce thickens.
Add sliced, cooked, Spicy Yoghurt Chicken and heat through.
Serve chicken over rice, and spoon butter sauce over. Garnish with coriander and lemon.