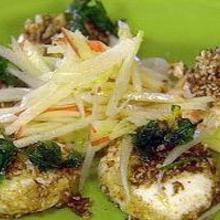 Nut Crust Cheese
---
Ingredients:
500g log of goats cheese
1/2 cup sesame seeds
1 cup chopped macadamia nuts
2 tblspns coriander seeds
1 tblspn sweet or smoked paprika
olive oil
parsley
1 small witlof
1 apple
juice of a lemon
Serves: 20
Method:

Slice log in to about 20 discs, then return to the fridge.
Mix dry ingredients together in a bowl and roll the cheese to coat.
Lightly fry in a pan with olive oil until golden.
Fry parsley leaves in the oil and use as a garnish on the fried cheese, sprinkling with some lemon zest.
Take a witlof leaf and slice finely. Julienne the apple and dress these down with a little of the oil the cheese was cooked in, and a squeeze of lemon. Drop the salad on top of the cheese slices.