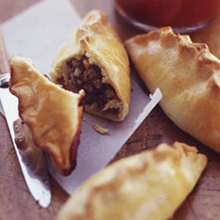 Moroccan Pasties
---
Ingredients:
1/3 cup olive oil
1 onion, chopped
450g lamb mince
2 garlic cloves, crushed
1 tblspn ras el hanout
2 tspns ground cumin
1 tspn ground cinnamon
1 1/2 cups beef stock
1 cup frozen peas
2 tblspns chopped coriander
6 sheets puff pastry
1 egg, beaten
yoghurt and mint leaves, to serve
Method:

Heat 2 tablespoons of oil in a large deep frypan over medium heat. Cook onion for 2-3 minutes, until soft. Add lamb and cook for 4-5 minutes, until browned. Add crushed garlic and spices and cook, stirring, for 1 minute or until fragrant. Add the flour and stir for 1 minute, then add the stock and season well with salt and pepper. Cover, reduce the heat to low and cook for 20 minutes or until mixture thickens. Add peas and simmer, uncovered, for a further 5 minutes or until the peas are tender. Stir in the coriander and allow to cool completely.
Preheat oven to 200C.
Cut rounds from pastry sheets - four per sheet gives a nice size. Spoon some lamb mix on to the pastry, brush edges with eqq, then press together to seal, forming a classic pasty shape. Place, sealed edge facing up, on a greased baking tray and brush with beaten egg. Bake pasties for 25 minutes or until golden brown.
Serve with yoghurt, garnished with mint.