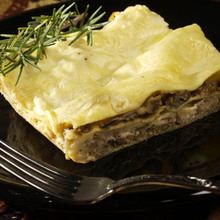 Open Lasagne Of Mushrooms With Fontina Cheese
---
Ingredients:
1.2kg mixed gourmet mushrooms
150g unsalted butter
50ml olive oil
1 small onion, finely chopped
3 garlic cloves, finely chopped
small handful marjorum
1/3 cup dry white wine
2 tblspns beef stock
3-4 fresh lasagne sheets
300g fontina cheese, sliced thinly
Serves: 4
Method:

Preheat oven to 180C. Wipe mushrooms using a damp towel. Cut into thick slices.
Melt a little butter and oil in a frypan over medium-high heat and cook the mushrooms in 4-5 batches, stirring, for 3 minutes each batch until tender, adding more buter and oil as required.
Heat extra oil in the same pan over medium heat. Cook onion and garlic, stirring, for 3 minutes until just starting to brown. Add marjorum and wine, and bring to the boil. Reduce heat to low, stir in mushrooms and glaze, and remove from heat. Season.
Blanch pasta in boiling salted water for 3 minutes or until al dente, then drain.
Cut pasta sheets to make twelve 7cm x 10cm rectangles. Place 4 pasta pieces on a greased baking tray. Use a slotted spoon to top each with some mushrooms, then some cheese. Repeat process, then top with remaining pasta and extra grated cheese. Bake for 7-10 minutes to heat through.
Boil mushroom liquid over medium high heat for 2 minutes to reduce. Serve lasagnes drizzled with mushroom sauce.