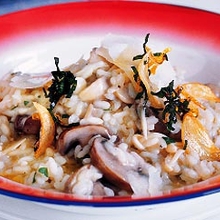 Mixed Mushroom Baked Risotto
---
Ingredients:
10g unsalted butter
2 tblspns olive oil
2 cloves garlic, crushed
100g field mushrooms, sliced
100g Swiss brown mushrooms, sliced
100g button mushrooms, quartered
1 1/2 cups arborio rice
4 1/2 cups chicken stock
1 cup finely grated parmesan cheese
40g unsalted butter
sea salt
cracked black pepper
Serves: 4
Method:

Heat a large non-stick frying pan over medium heat. Add the butter, oil, garlic and mushrooms and cook for 5 minutes or until the mushrooms are golden.
Preheat the oven to 180C.
Place the rice, stock and mushroom mixture in a 22cm x 30cm capacity baking dish and stir to combine. Cover tightly with foil and bake for 40 minutes or until most of the stock is absorbed and the rice is al dente. Add the parmesan, butter, salt and pepper and stir until the butter is melted.
Serve immediately.