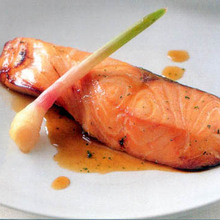 Baked Maple Glazed Salmon With Wilted Spinach
---
Ingredients:
1/2 cup freshly squeezed orange juice
1/3 cup maple syrup
2 tspns freshly grated ginger
1 garlic clove, crushed
4 salmon fillets
2 tspns olive oil
150g baby spinach leaves
Serves: 4
Method:

Preheat the oven to 200C. Line a baking tray with baking paper.
Place orange juice, syrup, ginger and garlic in a small pan over medium heat, and bring to the boil. Reduce the heat to medium-low and simmer for 8 minutes or until slightly reduced and syrupy.
Place salmon on prepared tray. Reserve half the maple glaze. Use remaining glaze to brush over the salmon fillets. Bake for 8-10 minutes, until cooked to your liking, brushing salmon with reserved glaze halfway through cooking.
Meanwhile, heat the olive oil in a large non-stick frypan over high heat. Add the baby spinach leaves and cook, stirring, until just wilted. Season to taste with sea salt and freshly ground black pepper.
To serve, divide the wilted spinach and salmon fillets among four serving plates, and drizzle salmon fillets with any remaining reserved glaze.