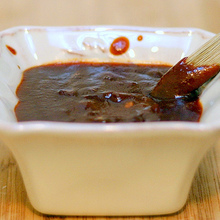 Barbeque Sauce
---
Ingredients:
1 tblspn olive oil
1 onion, grated
2 garlic cloves, crushed
1 tspn ground coriander
1 tspn ground cumin
1 tspn ground allspice
1/2 tspn cayenne pepper
2 tblspns brown sugar
1 tblspn malt vinegar
1/3 cup tomato sauce
1 tblspn Dijon mustard
1 tblspn Worcestershire sauce
2 spring onions, finely chopped
This spicy, dark sauce is brilliant with any sort of grilled chicken or red meat. To make a creamy barbeque sauce, cool and mix with 3 tablespoons of sour cream.
Serves: Makes 200ml
Method:

Heat the olive oil in a saucepan over medium-low heat. Add the onion, garlic, coriander, cumin, allspice and cayenne, and cook, stirring, for 5 minutes or until the onion is soft. Add the brown sugar and malt vinegar and stir until combined.
Add the tomato sauce, Dijon mustard, Worcestershire sauce and 1 cup of water, then season with sea salt and freshly ground black pepper. Increase heat to medium-high and bring to the boil, then reduce heat to medium-low and simmer for 15 minutes, stirring occasionally, until thickened.
Allow to cool slightly, then puree in a blender. Cool completely, then scatter with spring onions to serve.