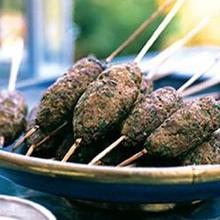 Beef Kofta With Saffron Yoghurt
---
Ingredients:
1/2 cup continental parsley
1/2 cup fresh coriander
1 brown onion, quartered
500g beef mince
1 tspn ground coriander
1 tspn cumin
1 tspn ground mild paprika
1/2 tspn ground allspice
salt
freshly ground black pepper
10 saffron threads
1 tblspn hot milk
200ml natural yoghurt
2 tblspns fresh coriander
olive oil
Serves: 8
Preparation time: 30 minutes
Method:

Place parsley, fresh coriander and onion in the bowl of a food processor. Process until finely chopped. Add mince, ground coriander, cumin, paprika, allspice and season with salt and pepper. Process until well combined and paste like.
Use your hands to mould a heaped tablespoon of beef mixture around a wooden skewer into a 7cm pointed-ended sausage. Repeat with remaining beef mixture and skewers. Cover and set aside.
Place the saffron and hot milk in a small bowl and set aside. Combine the yoghurt, extra fresh coriander, salt and pepper in a small bowl and set aside.
Brush the kofta with a little of the oil and cook under a preheated grill or on a barbeque, turning carefully once and brushing with the oil, for 5-8 minutes or until browned and just cooked through.
Add saffron mixture to the yoghurt mixture and mix well. Serve kofta with saffron yoghurt.