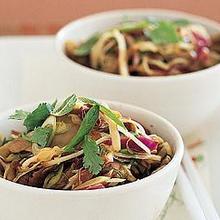 Chinese Duck Coleslaw
---
Ingredients:
1 tblspn kecap manis
1 tblspn fish sauce
1 tblspn sesame oil
1/4 cup peanut oil
1 small red chilli, seeded, chopped
2 tspn grated ginger
1 tblspn caster sugar
1/4 white cabbage
1/4 red cabbage
1 cup bean sprouts, trimmed
1/2 cup chopped mint
1/2 cup chopped coriander
1 chinese roast duck, meat shredded
1/4 cup roasted unsalted cashews
Serves: 6
Method:

Place kecap manis, fish sauce, sesame oil, peanut oil, chilli, ginger and sugar in a bowl and whisk to combine.
Combine remaining ingredients in a bowl. Pour over dressing and toss to coat well. Divide colselaw among serving bowls. Garnish with extra coriander and mint.