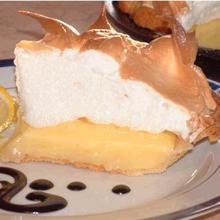 Lemon Meringue Pie
---
Ingredients:
6 ounces plain biscuits
3 ounces melted butter
1 can sweetened condensed milk
1/2 cup lemon juice
grated zest of 1 lemon
3 eggs (separated)
1/2 cup castor sugar
Very easy, but delicious!
Method:

Mix crushed biscuits and melted butter, press into pie dish or springform pan. Chill.
Mix condensed milk and lemon juice, then add lightly beaten egg yolks. Spoon mixture into pie crust.
Beat the egg whites until stiff, gradually adding the castor sugar as you beat. (Soft peak stage)
Spoon onto top of lemon mixture and bake at 180 deg C for approximately 15 minutes or until golden brown. (At this stage, I turn the oven off and leave the pie to cool in the oven, because I like a bit of crispness to the meringue.)