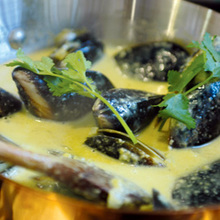 Lemongrass & Coconut Curry Mussels
---
Ingredients:
2kg fresh mussels
1 tblspn peanut oil
6 kaffir lime leaves
2 stems of lemongrass
2 garlic cloves, minced
1 tblspn ginger, minced
juice of 2 limes
1/2 tblspn palm sugar
1 tblspn green curry paste
1/2 tblspn fish sauce
420ml coconut milk
Serves: 4
Method:

Give the mussels a good scrub removing their beards by pulling down on them with a hard tug, then give them a good wash in cold water. transfer them to another bowl of water until cooking.
Heat peanut in a large wide saucepan.
Remove stem and finely chop lime leaves. Cut up and bruise the tender part of the lemongrass. Saute in the pan with curry paste, ginger and garlic for a couple of minutes untol aromatic.
Add coconut milk and simmer on a low heat for at least 5 minutes.
Add mussels, pop the lid on and cook on a higher heat for about another 5 minutes until the mussels have opened. Leave any that haven't opened in for another couple of minutes - if they don't open discard them. Remove from heat and divide mussels between bowls or into a large serving bowl.
Add the palm sugar, fish sauce and the juice of 2 limes, and cook, stirring, for another minute on low heat.
Ladle the sauce over the mussels and serve accompanied with jasmine rice.