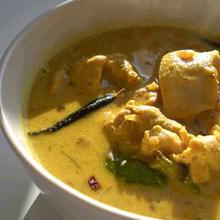 Coconut Chicken Curry
---
Ingredients:
4 garlic cloves
2 tspns ginger, minced
500g chicken tenderloins
400ml coconut cream
2 onions
2 tblspns curry powder
1 tblspn sugar
1 tspn salt
3 tblspns lemon juice
1 cup chicken stock
coriander leaves - to taste
Serves: 4
Preparation time: 20 minutes
Method:

Dice the chicken and cook in butter and a little sunflower oil over high heat until just browned. Remove from pan and set aside.
Chop onions and saute in butter until golden.
Add garlic and ginger and continue cooking for 2 minutes.
Add curry powder and stir well, then add chicken, lemon juice, stock, sugar, coriander leaves, salt, and coconut cream.
Simmer for 2 hours.
Allow to cool and place in fridge for at least 72 hours.
Serve with rice and your choice of condiments.