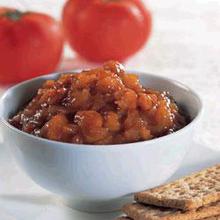 Tomato Chutney
---
Ingredients:
1 tspn oil
2 cloves garlic, crushed
2 tblspns ginger, chopped
1 onion, chopped
2-4 chillies, chopped
1/2 tspn tumeric
1/2 tspn cumin
1/4 tspn curry powder
1 tin tomatoes
1/2 bunch coriander
1/2 tspn vinegar
pinch sugar
pinch salt
Method:

Heat oil in a saucepan and fry onions, garlic and ginger for 5 minutes.
Add chillies, spices and saute for a few more minutes.
Add tomatoes and vinegar, cover and reduce to simmer for 10 minutes.
Place everything in a blender, along with the coriander.