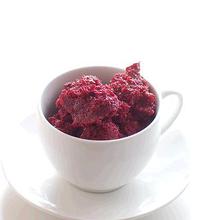 Beetroot Pesto
---
Ingredients:
1 bunch of beets, trimmed
2 tblspns olive oil
2 tblspns balsamic vinegar
40g (1/4 cup) pinenuts, lightly toasted
1 clove garlic, peeled & smashed
1/4 cup extra virgin olive oil
100g parmesan cheese, grated
Serves: Makes 2 cups
Method:

Preheat oven to 200C.
Scrub beets well then trim tops. Quarter beets and place on a large sheet of foil. Drizzle with oil and balsamic vinegar and season well. Wrap to form a parcel and seal well. Cook for 50 minutes to an hour or until beets are tender.
Allow to cool then place beets in a food processor with pinenuts and garlic and puree. Gradually pour in oil and stir through cheese. Season well.