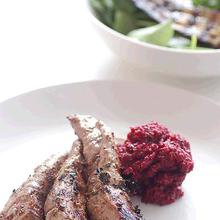 BBQ Lamb Fillets With Beetroot Pesto
---
Ingredients:
800g lamb fillets
4 tblspns extra virgin olive oil
2 tblspns red wine vinegar
2 tblspns seeded mustard
4 sprigs thyme, leaves picked
beetroot pesto, to serve
Serves: 4
Method:

Combine oil, vinegar, mustard and thyme in a ceramic bowl and season. Toss through lamb and cover. Refrigerate and allow to marinate for up to 48 hours.
Remove from the fridge an hour before you're ready to cook and allow the lamb to warm to room temperature.
Preheat BBQ or char grill pan to very hot then sear lamb for a few minutes on each side or until cooked to your liking.
Allow to rest for a few minutes then divide lamb bewteen 4 warmed plates and serve with a generous dollop of pesto.