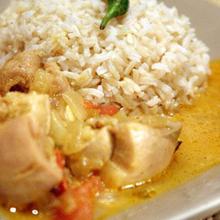 Spicy Chicken Curry
---
Ingredients:
750g chicken, cut into chunks
1 medium tomato, chopped
5 tblspns low fat natural yoghurt
2 medium onions, sliced
1/2 tspn turmeric
1 tspn chilli powder
2 tspns coriander powder
2 tspns cumin powder
1/2 tspn garam masala
3 cloves garlic, crushed
3cm ginger, minced
1 tspn kasoori methi (fenugreek)
1/4 tspn white sugar
2 tspns sunflower oil
This is a recipe I lifted from Malika Basu at Quick Indian Cooking (see links).
Serves: 4
Preparation time: 30 minutes
Method:

The trick with this recipe is to keep the flame high throughout and stir like your life depended on it.
Soak kassori methi in 2 teaspoons of hot weather.
In a medium pot, bring the oil to heat over a high flame. When it's hot add the sugar and watch it caramelise. Then add the onion and stir for two minutes until they turn a warm brown.
Now add the ginger and garlic and keep stirring, until the whole mixture turns a pale caramel brown.
Next, add all the powders, bar the garam masala. Stir for two minutes, making sure they don't stick to the bottom of the pan. If they do, add half a cup of hot water and scrape them off.
Add the tomato and diced chicken. Stir for five minutes until the chicken is well coated in the masala, and the tomato pieces start disintegrating.
When they do, stir in the yoghurt. Cook the chicken on a medium heat for another 10 minutes. There is no need to add water as the chances are the chicken has enough in it already.
Finally, stir in the garam masala powder and the soaking kasoori methi, along with its water. The kasoori methi or dried fenugreek is optional but it gives the curry a rich and bitter taste that balances the sour taste of the tomato and yoghurt.
Serve with a hot green finger chilli poured over some supe healthy brown basmati rice.