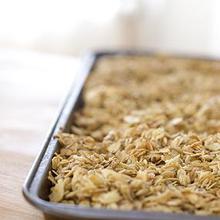 Muesli
---
Ingredients:
6 cups rolled oats
1 cup unprocessed bran
1/2 cup oat bran
1 cup shredded coconut
1/2 cup sesame seeds
1/2 cup sunflower seeds
1 tspn mixed spice
1 tspn cinnamon
nuts aplenty
1/2 cup oil
1/2 cup honey
Method:

Warm oil and honey, and pour over other mixed ingredients.
Bake for 1 hour in an oven at 100C, stirring occasionally.
Turn off the oven and leave overnight. Store in an air tight container.