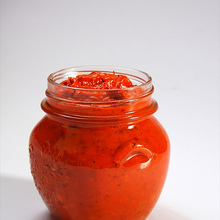 Harissa
---
Ingredients:
approx 15 long red chillies
1 red capsicum
4 cloves garlic, peeled & smashed
1 tblspn caraway seeds
1 tblspn ground paprika
2 tspns smoked paprika
4 tblspns extra virgin olive oil
1 tblspn red wine vinegar
Working with chillies is always a variable thing. If you find this version a little too spicy, round it out with tomato passata (puree), or if you're up for the challenge of a little more heat either roast yourself some more chillies or use some dried chilli powder.
There are a million uses for this hot little sauce. Mix into a dressing for potato salad (see Potato & Artichoke Salad recipe), or use as a sauce with roast or grilled meat, fish or poultry.
Kindly borrowed (without permision) from Jules Clancy at thestonesoup.com (see links).
Serves: makes about 1 cup
Method:

Preheat oven to 200C. Place chillies and capsicum in a baking tray and bake for 30 minutes or until chillies are super soft. Remove chillies and continue to cook capsicum until it is browned and soft. Cover and allow to cool and steam.
When cool enough to handle, deseed chillies and peel and deseed the capsicum, and place in a food processor. Add garlic, caraway seeds, cumin and paprika and whizz until you have a smooth puree. Transfer to a bowl and stir through oil and vinegar and season well.
Will keep in an airtight jar in the refrigerator for a couple of weeks