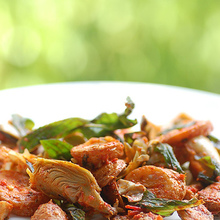 Potato & Artichoke Salad With Harissa Dressing
---
Ingredients:
600g kipfler potatoes, scrubbed
2 tblspns olive oil
6 baby or 3 large artichokes
1/2 bunch mint, leaves picked
4 tblspns harissa (to taste)
4 tblspns lemon juice
4 tblspns extra virgin olive oil
Kindly borrowed from Jules Clancy at thestonesoup.com (see links).
Serves: 4
Method:

Preheat oven to 220. Slice potatoes into thick rounds then toss in oil and season well. Place in a roasting pan and bake, stirring periodically until the spuds are golden and crispy and cooked through, approximately 50 minutes.
Meanwhile for the artichokes, bring a large pot of salted water to the boil. Add the artichokes and simmer until tender. Drain and allow to cool then remove the tough outer leaves. Trim the tops and bottoms and halve if using small artichokes or quarter if using large, and remove the furry choke bits with a teaspoon.
Combine dressing ingredients and season well. Toss through hot potatoes and the artichokes. When ready to serve toss through the mint leaves and you're good to go.