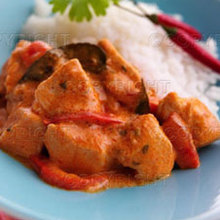 Chicken in Cranberry Sauce
---
Ingredients:
cubed or sliced chicken fillet
1 large onion
1 clove garlic
1 tin cranberry sauce
2 tblspns tomato paste
1 level tblspn plain flour
250 ml chicken stock
3 - 4 tspn curry powder
juice of 1 lemon
bayleaf
Preparation time: 1 hour
Method:

Dice onion and garlic and fry in pan with some butter until softened.
Stir in flour, curry powder, tomato paste, lemon juice and cranberry sauce.
Stir until smooth then add stock and bring to boil.
Add the chicken and bay leaf and gently simmer for 30 minutes.
Serve with boiled rice.