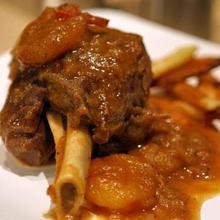 Lamb Curry With Apricots
---
Ingredients:
4 lamb shanks
2 medium tomatoes, chopped roughly
2 onions, chopped roughly
20 dried apricots
4 garlic cloves
4cm ginger
8 whole black peppercorns
1 stick cinnamon
8 green cardamom pods
1/2 tspn cumin powder
1 tspn coriander powder
1 tspn sugar
1/2 tspn chilli powder
3 drops worcestershire sauce
1 large potato, peeled & cut into thin strips
4 tblspns sunflower oil
Borrowed (without permission) from Mellika Basu at Quick Indian Cooking.
Serves: 4
Method:

Preheat the oven to 200C. Place the whole spices on a baking tray and dry roast until the green cardamom turns pale brown.
In a small food processor or blender, grind the whole spices together with the ginger, garlic and a tablespoon of water.
Leave the oven on. Bring a large pan / pressure cooker with 3 tablespoons of oil to heat over a high flame.
When the oil is hot, add the onions and fry for about 5 minutes until they have turned pale caramel. Then add the spice paste and stir for another 5 minutes until the onions soften.
If the paste starts getting stuck to the bottom of the pan, add a little hot water and scrape it off.
Now add the spice powders, the lamb shanks and the tomatoes, and stir like mad for 10 minutes. Add salt according to taste, submerge in hot water and leave to cook on a medium flame covered for an hour, or 25 minutes in a pressure cooker after the first whistle.
In the meantime, coat the sliced potatoes with one tablespoon of oil and some salt, and bake in the oven for about 25 minutes, flipping over mid way. Remove from the oven as soon as they are done, to prevent them going soggy.
When the lamb is cooked, sprinkle the sugar, worcestershire sauce and apricots into the curry. it should be rich and thick, so add a bit of water if it is too dry.
To serve, spoon a lamb shank onto a plate. Serve some potato chips and basmati rice on the side.