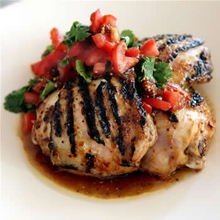 BBQ Chicken With Fresh Tomato Relish
---
Ingredients:
3 cloves garlic, peeled & chopped
100ml tomato sauce
50g seeded mustard
25g sugar
50ml olive oil
sea salt
freshly ground pepper
4 chicken breast fillets
120ml red wine vinegar
120g brown sugar
1 tblspn yellow mustard seeds
6 ripe roma tomatoes
1 large handful coriander leaves
Serves: 4
Method:

Place the garlic, tomato sauce, mustard, sugar and olive oil in a bowl, mix together and season well.
Add the chicken and stir. Cover bowl and leave in the fridge for 3 hours or overnight.
Pre-heat a barbeque grill or griddle pan.
Place vinegar, brown sugar and mustard seeds ina pan and bring to the boil. Stir to dissolve sugar. Simmer and reduce to a thick syrup. Remove from heat.
Cook the chicken on the barbeque or griddle.
Cut the tomatoes and coriander leaves roughly then stir through the warm syrup, season and serve with the chicken pieces immediately.